Premiere November 2020 
"Der Morgen war ruhig, wie stillgelegt. Hinter dem Dunst tauchten träge die Geräusche und Bewegungen des Erwachens auf. Alles wie immer. Alles wie bisher. Alles so wie es nie wieder sein würde. Mit dem seltsamen Gefühl, dass etwas fehlte. Sie waren verschwunden. Irgendwann, jedenfalls sie, ausser LA ULTIMA."
 (Elenita Queiroz)
 In einer unbestimmten Zukunft verschwinden plötzlich alle Frauen von der Erde – alle, bis auf eine: LA ULTIMA. Die Dramaturgie des Tanztheaterstückes von Elenita Queiroz basiert auf den möglichen Auswirkungen dieses Szenarios: Die drei Darstellerinnen der LA ULTIMA arbeiten mit Texten, die eigens für von zwei Autor*innen entwickelt wurden.
Mit dem Verein Basis 56 entwickelt sie ein imaginäres Universum, welches Fragen aufwirft die besonders die Frauen angehen und zugleich allen Menschen innewohnen: das Recht auf Selbstbestimmung des Körpers, der physischen und psychischen Autonomie des Lebens, der Ursprung unserer kulturellen Werte und deren Auswirkung auf Kollektivität und Individuum - sowie unsere ethische Verantwortung. Das Tanztheaterprojekt umfasst die Produktion und deren kulturelle Vermittlung - Performance, Workshop, Lesung und eine Nachbesprechung mit dem Publikum.
Schliesslich soll LA ULTIMA uns alle  an unseren ersten und unbestreitbaren Zustand erinnern: Mensch von Haut, Fleisch, Knochen, Hoffnung und Angst zu sein.
Künsterische Leitung und Konzept: Elenita Queiroz
Performer: Elenita Queiroz, Mara Natterer, Anna Zurkirchen.
Musik:  Raul Nagel
Dramaturgische Begleitung: Ted Stoffer
Produktionsleitung: Jacques Erlanger
Autor*innen - Kurzgeschichten: Bettina Scheiflinger,  Mischa Herzog
Bild: Jämi
Eine Produktion des Vereins Basis 56
Open process showing
       18. OKTOBER 2020 17.00-18.00 - Moving Studio St. Gallen
Vorstellungen
01.   NOVEMBER – Raum für Literatur, St. Gallen (Premiere)
07. NOVEMBER – Raum für Literatur, St. Gallen
08. NOVEMBER – Raum für Literatur, St. Gallen
14. NOVEMBER – Rösslisall, Trogen
15. NOVEMBER – TanzRaum, Herisau
---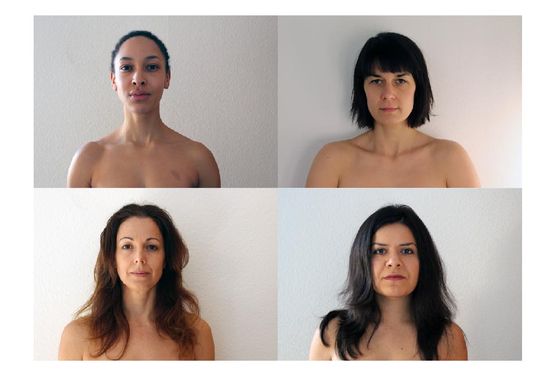 Female nudity is the "subject-becoming" increasingly exposed. In most existing social circles, controversial concepts such as eroticism, shame, power, submission, danger, resistance, fertility, strength, fragility, etc. are united in the female body. When it comes to physical and psychological freedom in the context of autonomy over one's own body, this issue becomes worse. NU then asks: What does the naked female body address in today's society? How are we women shaped by our cultural environment? Where do expectations come from and why do we follow them? A Brazilian dancer, a German Mozambican actress, an Iranian opera singer and a Hungarian actress perform on stage.
Transdisciplinary, courageous and touching, NU mixes humour and drama to remind us all of our first and undeniable state: to be human beings of skin, flesh, bones, blood, sweat, spirit and rights.
The performances took place at the 'Offene Kirche", St. Gallen, on 08, 09 and 12 May 2019.
Concept and project management: Elenita Queiroz
in Collaboration with: Sheida Damghani, Jessica Cuna and Boglarka Horváth
Music: Raoul Nagel
Light design: Emilio H. Díaz Abregú
Video artist: Morena Barra
Graphic: Mischa Herzog
Photo: Kay Appenzeller
Dramaturgy support: Ted Stoffer
Realisation: Basis 56
Elenita Queiroz & 
Kulturverein Basis 56
+41 79 951 10 92
---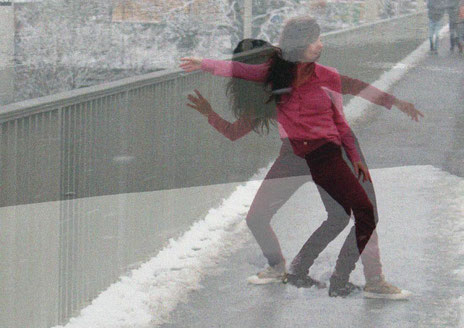 ...a number, a time measure, an abstraction... ready or not, its time to move, once again. Moving from, moving to, moving for, moving despite all the consequences...to keep alive.   Hovering somewhere between the vibrating body and the experience of contemplation, the piece  48"  has a hybrid format, mixing dance, theater and art installation and touches on issues such as displacement, identity, uncertainty and belonging.
... eine Zahl, ein Zeitmass, eine Abstraktion...Bereit oder nicht, es ist Zeit weiterzugehen, noch einmal. Ich ziehe um, ziehe nach, ziehe weiter, trotz aller Konsequenzen ziehen wir umher, um zu leben. Schwebend irgendwo zwischen vibrierendem Körper und Erlebtem, nimmt sich das Stück 48" Themen wie Umsiedlung, Identität, Unsicherheit und Zugehörigkeit an. Es verbindet dabei Tanz, Theater und Kunstinstallation.
Idee / Konzept :  Elenita Queiroz
Regie: Elle Driver und Elenita Queiroz
Mentor: Ted Stoffer
Video: Kim Schläpfer
Kostüm:  Ismini Wild
Foto und Grafikdesign: Mischa Herzog
Künstlerische Beratung:  Hella Immler
Produktionsleitung:  Alena Kundela und  Elenita Queiroz
Dauer: 50 Minuten
02. und 03. Februar 2018,  20Uhr, HKB Zikadenweg 35, Bern
(entrance free/limited places - reservations: theater@hkb.bfh.ch)
06. Februar, 20Uhr, Grabenhalle, St. Gallen
(CHF 25,00 - 20,00 /limited places - reservations - elenitabqueiroz@gmail.com)
http://www.grabenhalle.ch/2018/02/
---
For the next days (9th December) I am preparing a road action in which, over the course of 1 day, I will travel through different spots of Switzerland (including St. Gallen, Basel, Bern, Zurich and Winterthur) to perform my '48"_one day long'  action. Besides the artistic goal of the performance in itself, this road trip performance will serve to create a video to promote my master piece named 48", which will be shown in February 2018 at Bern and St. Gallen.
" What if the body never stops? What if the body never lands?"
With the age of 37 years old, I realized that I had lived (including temporary and permanent addresses)  in more than 44 different places. When transforming my age (37) in minutes, what means 37 minutes, I found out that every 48 seconds I moved.
My experience of moving over and over again, from one place (country, house, city) to another, is not an exclusive phenomenon. In fact, it happens to everyone, on a smaller or bigger scale, in a compulsory or a voluntary way, and an infinite range of reasons can cause it: personal desires, external forces, and so on.
The feeling of non-stopping, of having quite no break to rest and take a breath, or to (not) feel indeed grounded and connected to someplace or somebody is the catalyst inputs in my pursuit for a physicality that lies in the borderline between the vibrating body and the experience of contemplation.
This way, in my dance piece 48" I throws the above questions as a metaphor to talk about the transience of bodies in contemporary times and as an invitation to reflect on identity, uncertanty and belonging.
---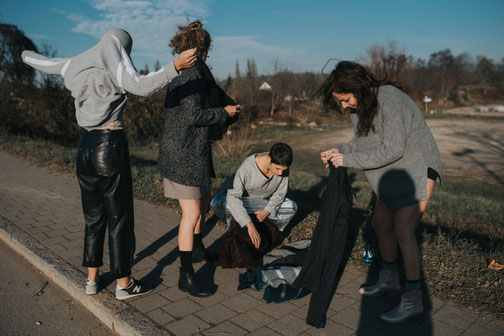 This project is the first part of the trilogy "The great escape". It deals with the idea of escape/pursuit and the issue that reverberates with this – leaving things behind, searching for new horizons, instability, transitority, displacement, turning points, going into the unknown.
Off One Turns is a collaboration between Elenita Queiroz (BR), Belinda Winkelmann (CH) and KOMA (Alena Kundela (CH) und Magdalena Weniger (D). The four dancers are working as a temporary collective because of the common interest in the subject. The performers are using each ones particularities, different approaches and artistic and cultural backgrounds to enrich the process and therefore the project. 
Premiere: 07 February 2017 - Grabenhalle - St. Gallen - Switzerland
Project supported by: Kanton St. Gallen, Stadt St. Gallen, Stadt Biel, Stadt Freiburg, Migros.
---
HELL - A ring - a board - a game - a spectacle - brightness, sound and fury - a fight - win don't matter how and no matter what - Hell ... arises from the intersection of two coexisting universes: the social, cultural, and economic of the late twentieth century and the inferences that emerge from the emotional memory of co-creative artists of this work in relation to this period. The investigation of this dialogical convergence meets everyday problems and unrest, and finds reverberations in contemporary treatment, particularly with regard to issues of power and gender. The structure of the work is based on the establishment of a choreographic area activated by the dancers (the players), which crossed by different periods references (80 and 2000 ...) shall introduce his actions while behavioral extension developments that echo in the contemporary world.
Such work opens the partnership between the artists  Elenita Queiroz and Edson Calheiros, both experienced artists in contemporary dance, theater and performance, having performed in Brazil and abroad. The piece is directed by Cintia Alves and produced by Valmiro Junior .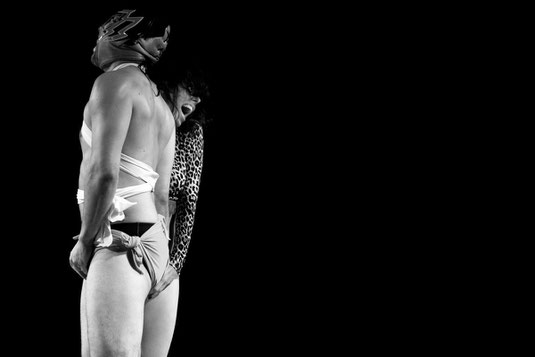 ---
Based in São Paulo, Brazil, the "Núcleo MIRADA" is a group of research and creation in contemporary dance, which works collaboratively putting the singularities of the artists in the creation process. The concerns that permeate the artists subsidize a subject in common, worked in the creation of laboratories, whose condition is the opening to the individual repertoire in relation to trigger it and its reverberations. In this dialogue emerge the notes for research proposals of physicality and drama.
Working together since 2010, the group is currently engaged in the project "Rede CALA" which aims to deepen and unfold the survey started in 2104 when the creation of CALA work. The project began in July 2015 and will continue until November 2016. In addition to research, it provides presentations, workshops, open classes, among other activities.
The Núcleo MIRADA has in its repertoire: CALA (2014), Urban Epiphanies – Epifanias Urbanas (2013),  Human Silences – Silencios Humanos (2012), Mirada (2011).
CALA is a contemporary dance performance around the theme Silence. The dramaturgy proposes ways of sensitive dialogue that leverage the forms of non-verbal communication and create loopholes for the individual experiences of those present to be shared simultaneously with the execution of the performance. Dancers and audience occupy the same space as accomplices in building this silence. The composition work researches strategies to establish procedures that provide a relationship with another, unknown, inviting him to silence, reflect and reveal. How to create a permeable atmosphere, capable to gives voice and concreteness to a silence rooted in coeval relations.
The REDE CALA  Project is configured in a series of actions that foster this research in dance, and create a web of experiences and proposals that relate to the research content mentioned above. It proposes CALA circulation, carrying out the work procedures, the transductions Network, Workshops, 24 hours Work Procedure and Display of Audiovisual Production.
EPIFANIAS URBANAS is a Collaborative Project of Núcleo MIRADA in partnership with Cia das Actresses. Sponsored by Funarte Petrobras Klauss Vianna Dance  Prize 2011 (developed throughout 2012). The project is configured as a network of poetic actions in São Paulo streets, Brazil.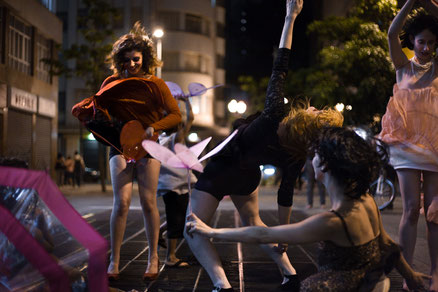 ---
|ENTRE|LADEIRAS  In 2015 I worked as a guest artist in the development of this site specific project along with "Núcleo Aqui Mesmo". This group researches the interconnection between dance and public spaces through site specific projects and pursues to rescue the affective relationship of passersby with these spaces often forgotten and neglected.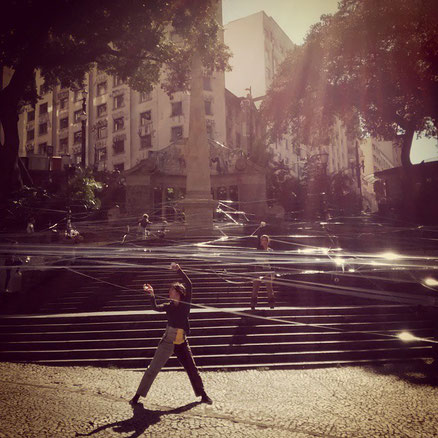 ---
SILENCIOS HUMANOS was a project conceived and developed by Elenita Queiroz which focused on the study of the relationship between body, space and memory in the construction of scenic material having the space of the "Casa das Caldeiras" as the main site survey. The work sought a multidisciplinary approach to issues such as silence, loss and incommunicado.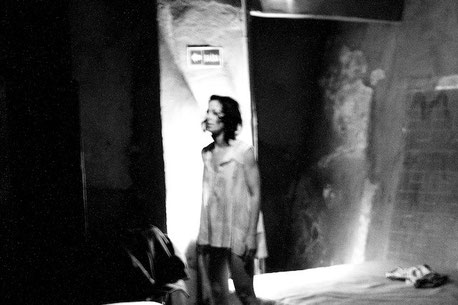 ---
The Company, based in São Paulo (Brazil), is directed by dancer and choreographer Luiz Fernando Bongiovanni who worked for 10 years in Europe including Opernhaus Zurich (Switzerland) and acting in worked Jiri Kylian, William Forsythe and others.
I was a member of the Núcleo Mercearia de Ideias for 4 years creatin and performing in following pieces:
---